SilverFast's Automatic Frame Detection
The Automatic Frame Detection for photos, slides, negatives and film is a tool to ease and quicken the scanning of several images with a flatbed scanner. Multiple reflective or transparent originals can be automatically scanned and optimized simultaneously. The Automatic Frame Detection is available for all SilverFast versions from 6.5 on. It is best suited to identify originals that are positioned on the flatbed with or without an image holder. If no image holder is used it is recommended to apply the
Auto Frame Alignment
feature with simultaneous Auto Rotation to automatically align the images in a rectangular order. Manually cropping and aligning images in another editing application is not necessary when combining these two functions.
Example images: Prescan view without and with Automatic Frame Detection and correction preview.
(Please click to enlarge)
The Workflow - How to apply the SilverFast Auto Frame Detection:
Place the originals on the flatbed and perform a prescan or preview the image:
SilverFast puts a frame around the entire preview window.
Select the Auto Frame Detection button and choose the desired format from the opening menu.
SilverFast generates individual frames for each image and optimizes the images automatically.
Additional adjustments such as sharpening, image size or resolution can be made individually to each image.
Finally all chosen images get digitized and optimized by a single scan.
NEW:
Automatic Frame Detection for filmstrip holders
The Auto Frame Detection has been considerably improved for SilverFast 6.6. Filmstrips, which weren't very easy to scan before, can now be smoothly digitized as separate images without the need for extensive post-processing. The user can choose the format of the original he wants to scan in a menu. This information enables the software to put tight-fitting frames around the separate images. The frame detection works in the same way with positive and negative film.
Film holders for filmstrips of the following formats are supported: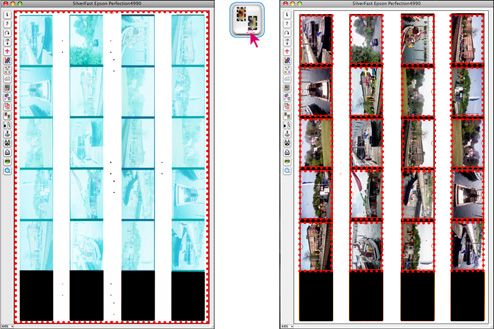 Example images: Film in holder without and with Automatic Frame Detection and correction preview.
(Please click to enlarge)