What is Unsharp Masking and what can you use it for?
The Unsharp Masking technique (USM) originates from traditional lithography. The sharpness impression of photos is increased by contrast rise of small brightness changes. Sharpened pictures appear more detailed, since the human perception is aligned to the recognition of edges and lines. This principle of Unsharp Masking can be transferred to the digital treatment of images.
The SilverFast Unsharp Masking (USM)
Conventional sharpening functions often increase the detail contrast in general and therefore also strengthen any image interference of the original. The image begins to appear very bumpy and unnatural. In contrast, SilverFast USM carefully raises the contrast at edges and lines without loosing any details.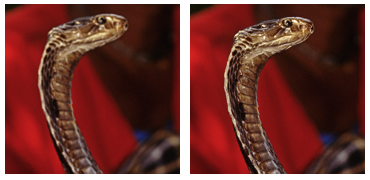 On the left without / on the right with SilverFast USM
Automatic Unsharp Masking
The SilverFast scanner software has a sophisticated, automatic sharpening function (adjustable in five steps), which leads to good results for most scans. As a function of the used scanner, output resolution and desired sharpness degree SilverFast USM computes the sharpened image.
NEW:
The automatic USM for SilverFast HDR and DC is now aligned to the scanner
With version 6.6.1r4 SilverFast saves scanner-related information along with the image data. This allows an advanced automatic Unsharp Masking for the later post-processing with SilverFast HDR, which takes the specific scanner details into account and is therefore able to produce brilliant, pin sharp images. Read more about the SilverFast Unsharp Masking. This innovation is a special advantage when working with the SilverFast
Archive Suite
.
Note: This feature has so far been released for the Canon, Epson and Nikon scanners, and will be available for other manufacturers' scanners in the near future.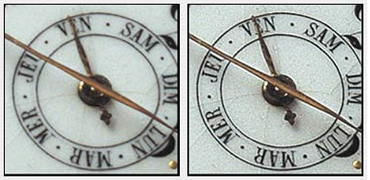 On the left without / on the right with SilverFast USM
Manual Unsharp Masking
Of course this SilverFast feature can also be operated completely manual. If desired, you can adjust any setting yourself. Simply select scaling, output frame and output resolution for your needs first, then start a preview scan of a small image section, which will be shown unsharpened as well as sharpened with the current settings. Using different controls you can adjust sharpness parameters in real time such as intensity of the sharpness effect, threshold value and pixel radius. Advanced users can access further adjustment possibilities, when they activate the expert mode.
Unsharp Masking PLUS
The dialogue window USM PLUS including its preview windows is freely scaleable and can therefore be increased in size. This allows better image control and a very good impression of the final sharpening effects before scanning.
Further details to USM and references to the handling you can find in the SilverFast manual and as an extract in the following PDF file:
Chapter 6.2: USM - Unsharp Masking (PDF)
Note: The SilverFast DC SE version features USM just with preset values.
USM PLUS only available with the SilverFast SE Plus, Ai Studio, DC Pro Studio and HDR Studio versions.