26. February 2014

Frank Doorhof – Frank Doorhof is a photographer from the Netherlands, who is specialized on fashion photography. He is the author of "A Guide to Model Photography". Doorhof loves to capture a model's real character instead of just creating a "pretty" image. While Doorhof still conducts magazine and advertising shoots, his main focus is teaching workshops including scanner workshops introducing SilverFast.


Frank Doorhof: « In my work I'm a 99% digital shooter, but in my heart and soul I'm a 99% analogue shooter. […] SilverFast is my choice because when I scan I want the absolute best image quality and SilverFast delivers what they promise. If I need more Dynamic Range I will use the "Multi-Exposure" function and the dust removal is great.

At the moment I'm scanning my family archive, loads and loads of slides and these are frozen moments in time that will never come back, I discover parts of the life of my family that I did not know or forgot and often also remember, this has to be scanned in the best quality possible.

I care for my scans and the memories they represent and if a program can help me get that little bit extra out of them, I'm in. »

Visit Frank Doorhof's website: http://www.frankdoorhof.com


21. February 2014

Fund-raising for the Philippines
– As part of our fund-raising campaign in December 2013, our customers have helped diligently. An amount of € 2,- for every sold SilverFast full version during donation period now goes to the UNICEF fund-raiser. LaserSoft Imaging AG increases the donation amount and we are happy to be able to forward
more than € 3.500
to the typhoon victims in the Philippines.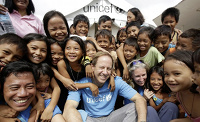 With the donations UNICEF received up to date, some important objectives already have been realized:
UNICEF has provided materials for water treatment, jerrycans and water tanks for 360.000 people as well as portable toilets for 25.000 people. Many water supply companies have resumed operation.
Many thousands of plastic canvas and countless tents were delivered to the Philippines.
UNICEF supports the "Back to Learning" campaign: After those disastrous experiences of the past few months, half a million students, some seriously traumatized, are gradually led back to school routine.
UNICEF coordinates the long-term reconstruction in the Philippines. Especially the cold chain for vaccines and essential medical supplies is to be restored with priority.
All information about
UNICEF fund-raiser
and the current situation in the Philippines.
18. February 2014

LaserSoft Imaging will be back at the CeBIT for you. We are presenting interesting digital imaging, scanning and printing news hand in hand with our partners Epson and Plustek. We would be happy to arrange meetings with press, partners, resellers or customers. Please contact us at
cebit2014@silverfast.com
.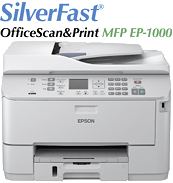 Epson
– Featuring the OfficeScan&Print MFP EP-1000, we would like to introduce for the first time at CeBIT a solution for government agencies, which can be fully integrated into the German DIGANT® III nPA process for passport and ID card issuing. The OfficeScan&Print consists of an Epson multifunction device and a specially adjusted SilverFast software. A flexible license management via license server now allows to share the OfficeScan&Print in a local network.
Visit us at
Epson
's stand in
hall 7, booth A63 (Public Sector Parc)
and see life this combination of powerful hardware and high-end scanner software SilverFast including IT8 color calibration and an ID printing solution. The OfficeScan&Print fulfills all requirements German federal printing agency Bundesdruckerei calls for a governmental usage.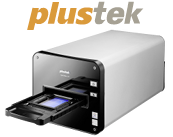 Plustek
– We would like to invite you to visit
hall 3, booth F29
to learn more about SilverFast 8 and medium format scanner Plustek OpticFilm OF120.
The OpticFilm 120 scanner comes with SilverFast 8, the latest version of our scanning software. The novel user interface and the unique WorkflowPilot assistant enable you to digitize slides and negatives as comfortable and easy as never before.
10. February 2014

Frontal Lobbings
– Canadian photographer Terrance Lam has reviewed the new
Plustek OpticFilm 8200i and SilverFast SE Plus 8
for the well known website Frontal Lobbings. Mr. Lam with more than 25 years experience in creative arts also leads applied arts education at the Pacific Design Academy. In his review he highlights the
NegaFix
option, which gives the user a convenient and professional way to convert negatives into brilliant positives. Lam is really satisfied with SilverFast and prefers it over all other scanner tools.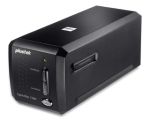 Terrance Lam
:
« The Plustek is a mini scanning lab on your desktop at a value. […] I will say that with a small learning curve with SilverFast, that you'll be scanning awesome negs in no time.

… I'd still suggest spending the time with SilverFast over Vuescan and in terms of colour negs, SilverFast deals with the orange mask far better than any other software scanning combination out there. »
You can find the complete article on the
frontallobbings.com website
.
5. February 2014

Book project Marcel Chassot abstract – geometricize – aestheticize
Artistic photography as survival strategy

Marcel Chassot, born 1947 in Zurich, earned a doctorate in economic science. As a self-taught photographer, especially his handling of light and its macro shooting made him known outside Switzerland. Chassot has won some prestigious international competitions, i.e. the Kodak European Gold Award and the Gold Medal of the Fédération Internationale de l'Art Photographic (FIAP). His works are continuously published in specialized journals and books and have been introduced to a wide audience in numerous exhibitions, including the Leica galleries in Germany and Switzerland.


Marcel Chassot's new book abstrahieren - geometrisieren - ästhetisieren (abstract – geometricize – aestheticize) is divided into the areas of macro photography, people and architecture & industry, and is especially interesting for photo enthusiasts and photographers, as each of these topics contains instructions for image composition and technical comments. For many of his images the author has used software from LaserSoft Imaging. He states in his book:

« Especially the multiple exposure method (Multi-Exposure) developed by LaserSoft Imaging resulted to significantly better results due to the increased Dynamic Range: More details in very bright and dark areas were captured. Concerning older slides also SilverFast's infrared dust and scratch removal (iSRD) proved to be extremely useful. Using this feature, I managed to avoid a lot of elaborate retouching. »

Take part in our prize draw and win one of these exceptional books. LaserSoft Imaging is giving away 10 copies – just send an email to gewinnchassot@silverfast.com until the end of March. We will draw the lucky winners from all entries. Please note: The book is in German language and we will ship it to Germany, Austria and Switzerland only.

If you want to purchase the book, you will find various sources on the author's websites.


3. February 2014

Moderskeppet.se – 3,5 Hours of Swedish Video Course
Scanning different Image Material using SilverFast 8
Great news for all Swedish and Scandinavian SilverFast users. Moderskeppet.se has just released a very comprehensive online scanning tutorial. Photo and image processing expert Gustaf Hellsing has prepared a 3,5 hour video course introducing all the basics and revealing many advanced tricks on using SilverFast 8 to receive brilliant images from scanning all kinds of originals.

Gustaf shows how to properly install and setup SilverFast and he gives some theoretical background on scanner resolution, Dynamic Range and other elemental terms. The main part of the video course introduces in detail the different scanning techniques and SilverFast features needed to successfully digitize black-and-white photos, colored pictures, negatives and slides. Click here to visit Moderskeppet's SilverFast Video Course. To get a general idea, a few movie clips are free and do not require any registration.


Moderskeppet:
« Scanning the family's old photo treasure can really tax someone's patience. Therefore it would be nice to do everything correctly the first time without risking of having to re-scan everything. Scanning expert Gustaf Hellsing can give you this guaranty – whether you want to scan photos, negatives, slides or everything mixed. »
30. January 2014

Christmas Prize Draw – the lucky winner is: Jonny Andrews
In collaboration with British photo website ePHOTOzine.com and scanner manufacturer reflecta, software company LaserSoft Imaging has raffled a reflecta ProScan 7200 including SilverFast Ai Studio 8 and a Fuji 35mm IT8 target in December. The winner of the Christmas Prize Draw, which included a variety of products from the field of ​​digital imaging as prizes, receives a copy of the leading scanner software SilverFast Ai Studio 8 along with the appropriate hardware from filmscanner specialist reflecta. And the winner is really happy with his prize:


Jonny Andrews from Newtownards near Belfast was all excited when he received message of his win: « I have to say I'm over the moon to have won the scanner and software package from yourselves! »

LaserSoft Imaging congratulates. If you look at Jonny's photos at Flickriver, it quickly becomes clear that he is a worthy winner. And Jonny is an amateur photographer not a professional – we are amazed. But have a look for yourself.
27. January 2014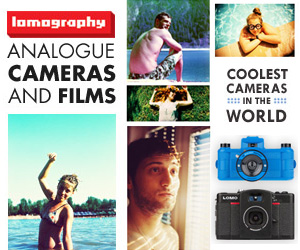 Photo Contest
– Lomography is an analog camera movement and community focussing on the Lomo LC-A camera created by LOMO PLC of Saint Petersburg, Russia.
Lomography
:
If your passion is to scan your own film, you probably know how it feels to spend a long night scanning and retouching photos. So in conjunction with LaserSoft Imaging, we want to see how your face looks like after those long hours you spent in front of the scanner, and reward you for all your effort. We are confident that, despite the fatigue after such a laborious task, the happiness will show in your face.
Please visit Lomography's current contest "Show us your face after an long night of scanning" to see if you can win SilverFast products.
More information on the contest on
www.Lomography.com
.
6. January 2014

SilverFast 8 has been successfully adapted to the individual hardware of Epson Perfection V550 Photo.
The V550 does not unfold its true potential without SilverFast. Multi-Exposure allows it to capture 6.026 instead of just 1.445 grayscales. Multi-Exposure reveals image details that would otherwise remain hidden. iSRD, NegaFix and many more unique features complete the power package SilverFast for the V550 Photo.




(click to enlarge)