22. January 2015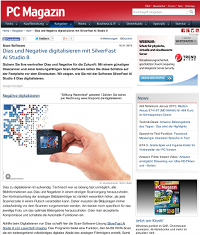 The online edition of the German IT magazine "PC Magazin" features a fairly detailed presentation of the current SilverFast 8 scanner and digital imaging software. The article reviews scanning, archiving and optimizing analog image originals using the various SilverFast versions as well as many SilverFast features in detail.
PC Magazin
:
« A 64-bit HDRi scan consists of three RGB color channels of 3 x 16 bits, where the maximum available Dynamic Range in the template's darker areas is achievable as an HDR image by a second scan with a longer exposure time (SilverFast Multi-Exposure functionality). The second exposure also effectively reduces image noise. As a fourth 16-bit channel an infrared mask for a subsequent error correction is appended.

Tip: Unlike other software, SilverFast does not calculate the infrared data directly into the image information, but includes them as a separate channel. Therefore, with the later image optimization process an individually adjusted dust and scratch removal can be performed.

Conclusion: Using the SilverFast 64-bit HDRi feature, digital images of slides and negatives suitable for archiving can be achieved without any expert knowledge. For an intermediate sized photo archive the investment of buying a scanner along with SilverFast software will already be lower priced than to commission a service provider from the web. Also very important: Your precious originals remain safely at home. »
pc-magazin.de
is a rich source of inspiration, guidance and practical applications of IT equipment for ambitious and professional users with a strong interest in topics like PCs, IT and web technologies.
Read the
complete article here on www.pc-magazin.de
. (German)
19. January 2015
c't Digital Photography organizes Photography Course in Cologne: Scan, Archive and Print Photos and Analog Film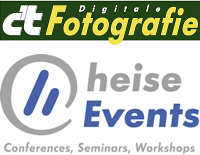 Image expert Bojan Radojkovic teaches how to professionally digitize photos and analog film on your own. He also explains the best tricks, proven in practice, for archiving and printing image data. Participants will learn how to successfully calibrate and profile a scanner (ICC profiles, color spaces, targets).
Learn how to scan with SilverFast 8
and how to safely archive the image data. Finally, the scanned photos are analyzed and high-quality printed.
Date: 21. + 28. February, 2015
Location: KARTHÄUSER-BREUER GmbH, Schanzenstraße 6-20, 51063 Cologne
Target Audience: All passionate photographers, amateurs and professionals
Number of Participants: 12 each course
Participation Fee: € 179,00 (incl. VAT)
More information can be found here.
(German)