13. January 2017

digit! - Detailled SRDx Photoshop Plug-in Review
The digit!, a German professional's magazine for digital images, introduces the new SRDx Photoshop CC plug-in for the Mac.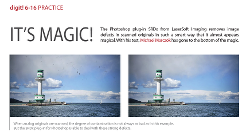 (please click to enlarge)
Michael Marczok, editor at the German magazin digit! – The professional magazine for digital images – has had a closer look on LaserSoft Imaging's new SRDx Photoshop plug-in. The innovative SRDx (Smart Removal of Defects) plug-in efficiently removes small defects like dust and scratches from your precious images to have them shine again.
Having finished his in-depth tests,
Michael gives testimony:
« LaserSoft Imaging's Photoshop plug-in SRDx removes image distortions in scanned originals in such a smart way that it appears almost magical. […] The time savings which can be generated are enormous. And time is money, not just for photographers. Our recommendation: Purchase instantly. »
The complete article can be found in the latest digit! magazine issue or
here as a PDF file
.