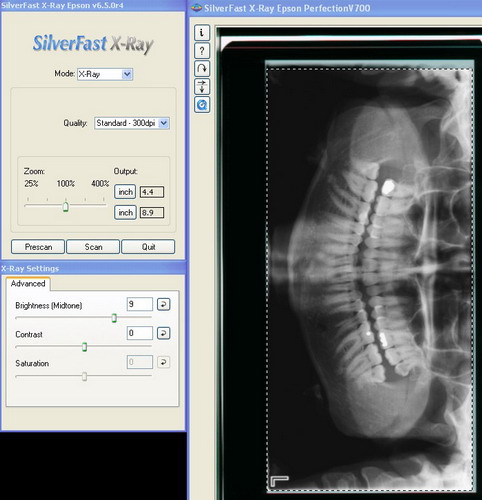 SilverFast X-Ray is a variation of the professional scan software SilverFast Ai and was specifically designed for the digitization of X-rays.
Dental X-rays, cardiac X-rays, lung X-rays, any size of X-ray can be digitized depending on the size of the flatbed scanner
(see recommended scanner models further down)
.
Due to the individual adaptation to each supported scanner
SilverFast X-Ray
is able to yield maximum details as well as the abundance of tonal values out of medical and scientific X-rays. The easy use of the tools also enables users without special knowledge in image processing to obtain perfect scans.
*Scanning X-rays demands a great deal of quality from the flatbed scanners' transparency units. The elementary highlight and shadow details are inaccessible with low-end scanners yet essential from a medical point of view. Consequently, few modern scanners fulfill these requirements."
X-ray bones
X-ray heart
X-ray lung
Offer
Currently LaserSoft Imaging offers SilverFast X-Ray:
As independent software without the scanner.

SilverFast X-Ray is available only for the following Epson scanners:


Is your scanner not listed?

Get informed as soon as SilverFast X-Ray is available for your scanner.
Highlights
Special X-ray automatic functions
Fullscreen preview, can be zoomed as required
Complete, individual control of the tonal values
Real-time processing and WYSIWYG-control on the monitor, before (!!) scanning
Use of IPTC-data