SilverFast Archiving Software


A unique concept - for your digital and analogue images

SilverFast Archive Suite is a comprehensive archiving solution for digitizing your images fast and easy. In terms of quality. The Archive Suite is a package consisting of scanner software and imaging software for a subsequent image optimization which work together perfectly.



✔ Losless RAW data formats
✔ Return to original at any time
✔ Multiple processings without loss of quality
✔ Constant maximum bit depth and information
✔ Complete one-stop Workflow
✔ Digitizing concept

Although SilverFast is designed for professional image editing, handling the software is so easy that even beginners can create brilliant pictures using the intelligent automatic functions and the integrated QuickTime movies. Available for Mac and Windows.

In terms of quality, SilverFast surpasses the results of any manufacturer's software significantly. Our unique RAW data concept grants you a maximum of security and efficiency, allowing you to build up a digital archive of the images that you've collected over years and decades in short time.

Laern more bout the highlights of the SilverFast Archive Suite and its unique RAW data concept.

« The SilverFast Archive Suite offers all necessary steps for a professional and losless backup of all the images that you've collected over the years and thus preserves your precious originals. »


---



Below you will find detailed information about each SilverFast Archive Suite version. You can also consult the product page for your scanner to look up, which software is available for your device and operating system.

Please compare the feature range of both Archive Suite 8 versions here:

SilverFast 8 Versions:

Archive Suite SE 8
The new generation of SilverFast Archive Suite in the entry-level option, consisting of SilverFast SE Plus 8 and HDR 8.

_________________________ [learn more …]


---

Buy | Archive Suite Demo | Update

Archive Suite 8
SilverFast Archive Suite 8 includes the new professional scanner software SilverFast Ai Studio 8 and the imaging software
HDR Studio 8.
_________________________ [learn more …]


---

Buy | Archive Suite Demo | Update


Optional Features for SilverFast 8:

Printer Calibration
Upgrade for SilverFast SE Plus 8, Ai Studio 8
and SilverFast Archive Suite (SE) 8
Color-true printing without additional hardware.

_________________________ [learn more …]


---

Upgrade
SilverFast 6.6 Versions:

Archive Suite SE 6.6
SilverFast SE Plus 6.6 and HDR 6.6 are combined to the Archive Suite SE 6.6 which is available for many scanners.

_______________________ [learn more …]


---

Buy | Scanner Demo | HDR Demo | Update
Archive Suite 6.6
The well-proven professional archiving solution SilverFast Archive Suite 6.6 is comprised of SilverFast Ai IT8 Studio 6.6 and HDR Studio 6.6.
_______________________ [learn more …]


---

Buy | Scanner Demo | HDR Demo | Update

Optional Features for SilverFast 6.6:

Printer Calibration
Upgrade for SilverFast Archive Suite 6.6
The IT8 feature is a requirement for this upgrade
Color-true printing without additional hardware.

_______________________ [learn more …]


---

Upgrade
---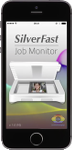 NEW: SilverFast JobMonitor – the iPhone App


For scanning or processing large image files in SilverFast 8, the new JobMonitor App will comfortably display the progress of these scans or image optimization jobs on your iPhone, iPad or iPod. You will find a preview image and a progress bar for every single image item enlisted on your current job queue.


---

VLT, the new Virtual Light Table in SilverFast HDR 8 and SilverFast HDR Studio 8, works as an ideal link to SilverFast scanner software. Having the VLT introduced, the archiving workflow is brought to perfection. Scanner and HDR software combined add up to the SilverFast Archive Suite 8.

What exactly is the VLT?
The SilverFast VLT is a Virtual Light Table, a kind of image file browser for scanned images. The VLT is used for selecting the desired scans for image optimization in batch mode quickly and well-arranged. The customizable preview function, and the possibilities for image rating and marking facilitate this process.


---




Das SilverFast Archive Suite Rohdaten-Konzept


Der SilverFast Archiv-Workflow wurde konzipiert, um besonders effizientes Arbeiten zu ermöglichen und gleichzeitig höchste Ansprüche an die Qualität zu erfüllen. Durch diesen besonderen Workflow arbeiten Sie durchgehend non-destructive und verlustfrei. Dadurch, dass unveränderliche, digitale Originale erstellt werden, brauchen Sie keine Angst vor Fehlern zu haben und sind immer auf der sicheren Seite.

Die Bilder werden grundsätzlich mit der maximalen Farbtiefe des Scanners gescannt und als digitales Original gespeichert. Ihre Bilder werden im ersten Schritt ohne weitere Veränderungen gescannt. Die Helligkeit und Farben in Ihrem Bild werden erst später angepasst. Das bedeutet für Sie, dass Sie sich beim Scannen keine Gedanken über die Bearbeitung Ihrer Bilder machen müssen.

Ihre Bilder werden als unveränderliche Rohdaten-Dateien abgelegt. Von diesen Rohdaten ausgehend werden bei der Bildbearbeitung neue Dateien mit Ihren Veränderungen erstellt, so dass Sie jederzeit auf die Originale zurückgreifen können, wenn Sie Ihre Bilder noch einmal unterschiedlich bearbeiten möchten.

Die Rohdaten, die SilverFast erstellt, sind grundsätzlich nicht proprietär, d.h. für jedes Bildverarbeitungsprogramm lesbar. Im Vergleich zu anderen Programmen kann die SilverFast HDR Software zusätzlich die, mit dem Bild gespeicherten, Infrarot-Daten Ihres Scanners zur automatischen Staub- und Kratzer-Entfernung nutzen.

Nach dem Scannen laden Sie Ihre Bilder nun in die Bildverarbeitungs-Software SilverFast HDR, in der auch weiterhin alle verfügbaren Daten, die beim Scanvorgang eingelesen wurden, genutzt werden. Wenn Sie Ihre gescannten Rohdaten mit der SilverFast HDR Software öffnen und verarbeiten, werden neue Dateien, zusätzlich zu Ihren Originalen, gespeichert und die Rohdaten selbst bleiben in ihrer ursprünglichen Form bestehen. Die Einstellungen, die Sie für Ihre Bilder vornehmen, werden als zusätzliche Informationen zu den Originaldaten gespeichert. Sie können daher jederzeit wieder zur ursprünglichen Version des Bildes zurückkehren. Dauerhaft werden die Einstellungen nur auf die neue Datei angewendet, die bei der Bildverarbeitung zusätzlich erstellt wird. Mit diesem non-destructive Workflow können Sie also einfach nichts falsch machen.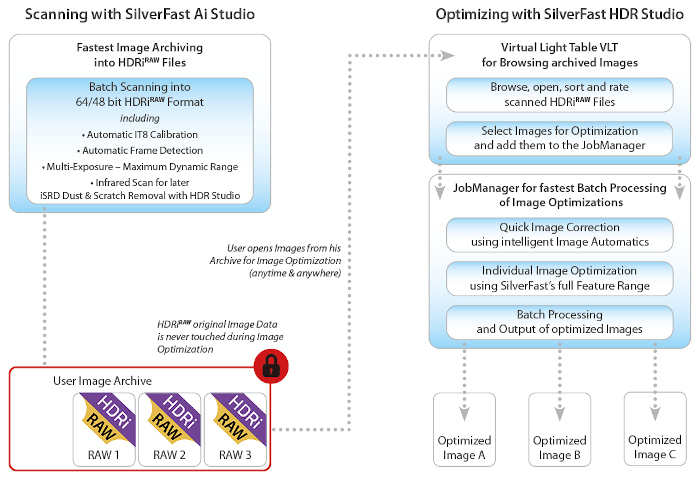 SilverFast berechnet Ihre Veränderungen am Bild also immer auf Grundlage aller verfügbaren Daten und immer erst, wenn Sie Ihre Korrekturen abgeschlossen haben und eine fertige Bild-Datei erstellen lassen. Bis dahin werden alle Veränderungen gesammelt und für die Verarbeitung in eine optimierte Reihenfolge gebracht, so dass Sie sich im Gegensatz zu anderen Programmen keine Gedanken über die Reihenfolge der Werkzeuge für Ihre Korrekturen machen müssen.

Für gewöhnlich leidet die Qualität eines Bildes erheblich, wenn Sie es ein zweites oder drittes Mal bearbeiten. Nicht so mit dem Archiv-Workflow. Durch das Rohdaten-Konzept ist sichergestellt, dass Sie keine Qualität durch mehrfaches Bearbeiten derselben Datei verlieren und dass Sie immer wieder mit dem vollem Datenumfang arbeiten können.

Mit unserem Rohdaten-Konzept sichern Sie einerseits Ihre wertvollen Bilder in unverfälschter Art und Weise und verarbeiten diese andererseits je nach Bedarf flexibel mit den passenden Einstellungen.

Der Vorteil gegenüber anderen Workflows ist offensichtlich. Mit der SilverFast Archive Suite erhalten Sie aus einer Hand zwei Programme, die ideal aufeinander abgestimmt sind und sich ergänzen. Dadurch können Sie durchgehend mit dem vollen Umfang an Bildinformationen arbeiten und sicher sein, dass nicht auch Ihre digitalen Bilder im Laufe der Zeit an Qualität verlieren.